I rented an Event in a Box. What do I get?
The Large box is ideal for events with up to 500 attendees and includes:
4 iPads (2017 model) 32GB with protective zipper cases
4 iPad stand-up kiosks
4 iPad chargers (lightning cable + 12w power cube)
2 Zebra GK420d direct thermal desktop printers
2 printer power supply
1 Cradlepoint AER1600 router
1 router power adapter
1 SIM card with 3GB data credit
2 Ethernet cables
Direct thermal, non-adhesive badge stock: a choice between 1000 single-sided 4″ W x 3″ H badges or 500 double-sided 4″ x 3″ badges (4″ x 6″ badge stock with a perforation at every 3″)
Box dimensions: 24 x 21 x 17, 41 lbs
We are signed up for On Arrival Premium. Kiosk mode is turned on so attendee can search for their name using one of the four ipads included with EIAB. They will automatically be checked in and their badge printed. Reports can be run.
About OnArrival Premim

However, some features are not yet available for OnArrival Android. If you need to use any of these features in the meantime, you'll need to use OnArrival for iOS instead.

There is the option of adding a QR code to their registration confirmation to sign in by scanning code instead of looking for their name.  A new confirmation page can be sent out to those already registered which will have the QR code and all registrations going forward will have the QR code on their confirmation page. This will require the confirmation page being handy but if not they can look up their name. (My thought is this could slow down the checkin process. Searching for their name would be quicker than fumbling around in their backpack for their confirmation page.)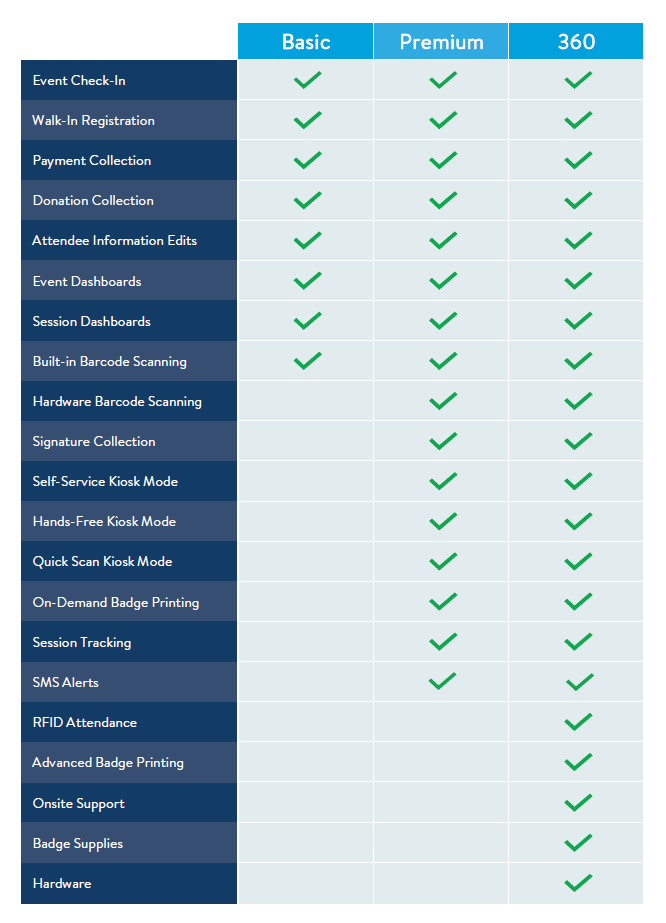 If you would like further information on any of these FAQ's, or if you have questions not covered here, please let me know and I will research and add documents to the website.